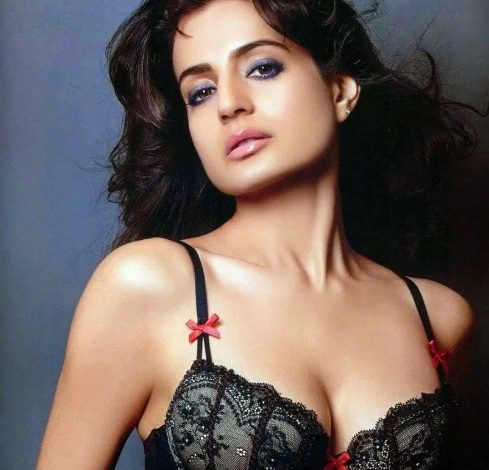 Ameesha Patel was born in Ghana, educated in England. She then moved to Australia, Canada, New Zealand, Sri Lanka and Pakistan. After that, she lived in Spain, Dubai and Egypt. She married an Australian man but has been happily dating men from all over the world since she was a teen. She is described as beautiful with straight hair, brown eyes and a slim, curvy body.
Ameesha's real name is Amedeo Valliyu, which is given by her father when she was a child. However, because of her working commitments, she has come up with her given name, Ameesha. Her real eye colour is black, as was seen in some of her earlier films. Ameesha is an ethnic brown haired woman, whose real name is Aimi Valliyu.
Bra Size & Body Measurements
| | |
| --- | --- |
| Bra Size | 34 B |
| Waist Size | 26 Inches |
| Hips Size | 34 Inches |
| Shoe Size | 8 (US) |
| Body  Measurements | 34-26-34 Inches |
Ameesha was born in Ghana and educated at primary and secondary schools in Australia. After that, she went to university in Canada where she studied marketing. After that, she landed jobs in fashion marketing and distribution, before becoming an actor. While working on a movie script, she discovered her true voice and shape and started using her real name, Aimi Valliyu.
Ameesha has appeared in some popular Telugu and screen movies. She has gone on to act in different high profile movies in India, Malaysia, Singapore, Canada, and the United Kingdom. Apart from her acting debut in a Telugu movie, this Australian Bollywood actress has also acted in some Hollywood movies such as Invictus, Blue, and Kill Bill. She is yet to star in a Hollywood blockbuster in India, to receive call backs for such roles.
Ameesha's first and main role in Bollywood was in the movie "Amar", which was released in nine June 1976. She played the role of Jasmine, the young daughter of the Ayodhya family, who is set to marry Jafar (Nasser Hussain), the son of the emperor. The role was initially played by Sarojini Nagar. Though the film did not receive a great response in India, it did manage to make its way to the US, UK, and other English speaking countries.
Currently, Ameesha is starring in the popular television drama 'Family Ties' as well as the movie "Laguna Beach: The Real Orange County" in which she plays Natalie, a pregnant widow. Her latest release 'Singh Vs. itiveness' is also a hit in Mumbai. Apart from these roles, Ameesha has also acted in some high-budget movies and popular television serials such as 'Dhooma' and 'Chak De! India.